Depending on your prior experience and psilocybin tolerance, the whole Golden Teacher's trip often lasts between 2 and 5 hours. The initial effects begin to be felt between 20 and 30 minutes after the peak, which occurs in the first or second hour. Golden Teachers are very gentle, they function quickly, yet gently engulf you in a trip, unlike other magic mushrooms. Soon you won't know who you are or what you're doing anymore. Here is a breakdown of the effects at various dosages because the dosage is one of the major aspects that affects your experience with magic mushrooms:
Micro dose:
Full body relaxation;
Felling of a deep connection between your ego and the Universe;
Creative way of thinking.
Minimal recreational dose:
Mild visuals;
Strong flush of thoughts (the ones where where you are just a spectator);
Deeper look into yourself, rather social experience.
Full recreational dose:
Stronger visual and hearing hallucinations;
Something that reminds Synesthesia, when you can see the color of the music or feel a picture;
Feeling rejuvenated after a trip.
High dose:
Ego transformation;
Intense psychological experiences;
Euphoria and absolutely new spiritual connections.
Heroic dose:
What transpires if you travel that far is unknown. On this point, there may be some unfavorable affects, such as nausea and headaches, especially if you are new to spiritual exploration. Keep in mind that all reports are vague. When you are tripping, it is challenging to keep track of what is happening. So, if you have confidence in yourself and your tolerance, start low and raise the dose gradually.
When to use Golden Teacher Magic Mushrooms
A variety of things can be done using golden teachers. Anything, from little psychedelic experiences to intense ones, starting with recreational ones. Plus, it's the most widely used strain when it comes to edibles. You can use Golden Teachers in the following situations:
For recreational purposes: a microdose of a Golden Teacher during the festival or other social meeting can increase your mood and make you feel more connected to people around you. You can also take them when going for a walk in a familiar area to feel more connected with nature. In the museum or art gallery you understand art in greater detail and feel emotions the painter had;
For mental wellness: there are various studies on the official websites that research safe use of psilocybin-containing mushrooms on the body and for mental disorders treatments. Golden Teacher strain can be the one of the first magic mushrooms officially used for PTSD, depression and other disorders treatment;
For spiritual breakthroughs: as it was previously mentioned, Golden Teacher strain has shamanic properties. It is more psychoactive than psychedelic, meaning that even if it doesn't give you hallucinations, it still makes you feel mysterious introspections and a sense of oneness with the Universe.
Because there are so many different uses and excuses for using magic mushrooms, it will definitely take a lot of time to find the ideal substitute for your unique situation. It is recommended to begin in comfortable surroundings, such as your home, to guarantee a stress-free, safe vacation. Furthermore, after ingesting a small amount of Golden Teacher, some users report experiencing dizziness. If you've tried it at home and are completely at ease with it, then feel free to venture out and experience a wide range of novel feelings.
For the cultivation and successful harvest of Golden Teacher magic mushrooms, you?ll need to create a favourable environment for them to grow: high humidity of around 80%, and a constant temperature of approximately 23 degrees Celsius.
To achieve this optimum environment, the Golden Teacher mushrooms grow kit comes with all the necessary accessories besides the mushroom substrate: a plastic grow bag with micro-perforations for breathing, and a couple of metal clips to close the bag.
Simple preparation involves first opening the container and removing the lid (save, do not discard). Ensuring that the substrate remains within the plastic container for the duration of the crop is crucial. Use mineral water to wet the substrate after it has been opened. It is best to thoroughly hydrate it by misting the mycelium with mineral water.
Get the special grow bag and fill it with a few glasses of mineral water after you've rehydrated. In the bag, put the plastic container. It is imperative that the water not come into contact with the substrate and not reach the top of the container. You can skip this step and just put the mycelium inside the bag if the surrounding humidity is high.
.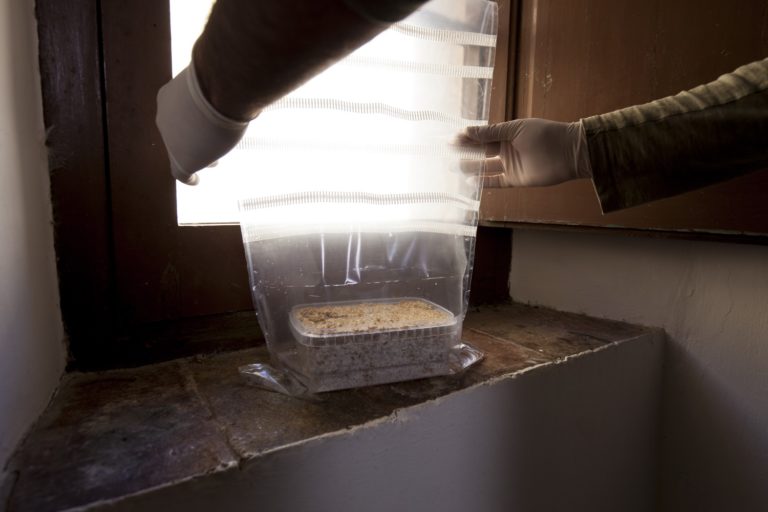 The next step is to secure the bag by folding its opening twice and positioning both clips, one on each side. When doing this, make sure that nothing is blocking the grow bag's micro-perforations.
To ensure that everything is solid and settled, place the bag containing the mushroom substrate on a horizontal, stable surface. Light must reach the mushroom substrate, but not directly. The bag should ideally be hidden behind a window or in a corner. A consistent temperature of about 23 oC is required where the bag is placed.
All that's left to do is wait for the mycelium to fructify and open the bag every day for a few minutes to allow air to circulate and the substrate to oxygenate. The first mushroom may take anywhere from seven to twenty days to sprout, depending on the surroundings. The primary causes that often cause the first mushrooms to not form right away are low temperatures and low humidity.
After a few days (2-4 days, depending on the strain and the growing environment), you will have some mushrooms ready to harvest once the fruiting process has begun. After three more days, more than twenty-five Setnatur Golden Teacher mushrooms were ready to eat, having taken nine days to begin fruiting, shop here.
Growing Setnatur Golden Teacher magic mushrooms in a plastic propagator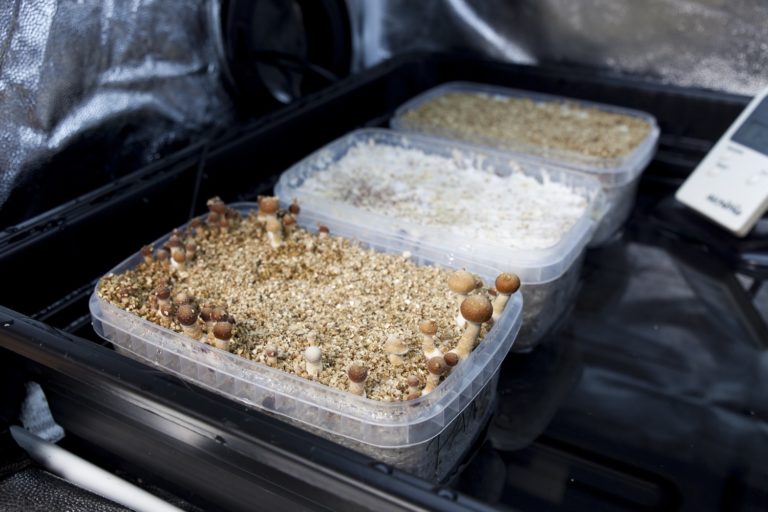 Take off the propagator's lid and cover the tray with 3–4 cm of mineral water. Next, take the mycelium container and take off the lid (do not discard it), then put the substrate inside the propagator and mist it with mineral water using a sprayer.
In case the plastic lid has ventilation slots, you will need to modify the opening until a consistent humidity level of approximately 80% is reached. To breathe fresh air inside, open the lid for a short while each day.
Harvest and further fructification
The optimal time for harvesting the mushrooms is right before the opening of the veil that covers the hymenium, which is located inside the cap and contains the spores.
The mycelium will turn black as a result of the spores being released, which can be easily detected once the veil is opened. Although it won't have a significant impact on the harvest, this could contaminate the substrate by stopping additional fructification.
The impact of larger mushrooms is not stronger. Conversely, psilocybin concentrations are higher in small and medium-sized mushrooms. It is therefore best to harvest them when they are between 5 and 7 cm tall, as long as their veil is broken and the spores are released.
The volva, or base of the mushroom, should be separated from the substrate by gently tugging on the stems when harvesting the mushrooms. To avoid contaminating the mycelium, never cut them or leave any mushroom remnants in the substrate. You'll need to hydrate it again when it stops producing new mushrooms or slows down, but in a different way this time:
After removing the substrate from the propagator or grow bag, clean the surface to remove any remaining impurities from the first fruiting. Take your time filling the container with water, using mineral water if necessary, and stop when the water almost reaches the top.
After closing the lid, put the container in the refrigerator (4–7 degrees Celsius) for at least 12 hours. Following this time, remove the lid, lift the corner, and pour out any remaining water. Then, put the container inside the propagator or bag.
The substrate will be ready for a fresh batch after it has been rehydrated, and you should be able to repeat the same process to get a third harvest!
Drying and storing Golden Teacher mushrooms.
The mushrooms must first be dried in order to be preserved. Finding a space that is appropriate for this process is the first step. It should be low humidity, dark, and about 20 degrees Celsius. If it isn't airy, you can use a small fan.
After determining the ideal location for drying your mushrooms, spread them out evenly on a tray or sizable plate. Making sure the mushrooms are not stacked or in contact with one another is crucial. To aid in moisture absorption, you can sandwich a paper towel or napkin between the tray and the mushrooms.
Your magic mushrooms should be dry and ready for storage in a week or ten days if the proper conditions are met. Mason jars with tight lids are the ideal containers for storing them. After putting the mushrooms in the jars, store them somewhere dark and cold, like the refrigerator.
The psilocybin-induced psychedelic effects of the mushrooms can endure for several years under ideal circumstances. The ideal place to eat them is outdoors, away from rough or uneven ground, and always with a guide who has been on similar trips before..
We leave you with this interesting video tutorial on Setnatur mushroom cultivation (notice you have English subtitles available in the config menu):
The Potency of Golden Teacher Mushroom Strain
Golden Teacher mushrooms have a potency range of 0.7% to 1.2% total tryptamines, according to data gathered by the Psilocybin Cup. Psilocybin, psilocin, and related substances are among the active compounds in these tryptamines that cause the psychedelic effects. GT stands out as a strain that can bring about profound changes without overwhelming novices due to its moderate potency level.
They have predictable effects because of their moderate potency. The ability to take their psychedelic trip at a comfortable pace is greatly appreciated by novice users. The mild introduction to the world of psychedelics is made possible by the moderate potency, which permits a gradual shift into an altered state of consciousness.
Golden Teachers: Beginner-Friendly Psilocybe Cubensis Mushrooms
Because Golden Teacher mushrooms have a moderate potency, they are good for novices or those looking for a tastier psychedelic experience. In comparison to strong strains, this strain's moderate potency makes for a more tranquil and gentle trip. For those experimenting with psychedelic mushrooms without experiencing overpowering effects, Golden Teachers are a great option for a number of reasons.
Moderate Potency
The potency level of GT shrooms is moderate. Beginners can expect a well-balanced and manageable psychedelic experience thanks to its moderate potency. By progressively exposing users to the effects of psilocybin without overwhelming intensity, it lets them enjoy a comfortable journey. This will also shield new users from the typical unpleasant experiences associated with their first exposure to strong strains.
Predictable Effects
Their predictable effects are further enhanced by their moderate potency. Experienced users value the ability to foresee and comprehend potential outcomes. Novices can confidently explore the altered state of consciousness because of this predictability, which gives them a sense of control and comfort.
Gentle Introduction
For those new to psychedelics, GT mushrooms provide a mild introduction. It's well known that their impacts encourage reflection, uplift, and personal development. Elevated creativity, increased sensory perception, and euphoria are frequently reported by users. With the support and manageability of this gentle introduction, beginners can explore their inner thoughts, feelings, and perceptions.
Balanced Experience
The effects of Golden Teacher mushrooms provide a smooth fusion of hallucinogenic experiences. They offer a psychedelic journey that is transformative without being overpowering or confusing by striking a balance between intensity and clarity. Beginners are able to stay coherent and grounded thanks to this balance.
How to Use Golden Teacher For the First Time?
Since Golden Teachers have a moderate potency, they are in fact thought to be the best for beginners; however, new users should exercise caution. The dosage, configuration, and individual sensitivity all affect how psilocybin-containing mushrooms feel overall.
Start with a Low Dosage: As a beginner, starting with a low dosage is advisable to gauge your sensitivity and response to hallucinogenic mushrooms. A general guideline for beginners is to begin with 1 to 1.5 grams of dried mushrooms. Starting low allows you to acclimate to the effects and assess your tolerance gradually.
Prepare the Setting: Choose a comfortable and safe environment for your experience. Ensure that you are in a space where you feel at ease and free from external disturbances. Consider factors such as lighting, music, and the presence of trusted individuals if desired.
Consider a Trip Sitter: Having a trusted friend or experienced trip sitter present during your first experience can provide additional support and guidance. They help ensure your safety, offer reassurance, and help manage challenging moments.
Set Intentions: Before consuming psychoactive mushrooms, set clear intentions for your journey. Reflect on what you hope to gain from the experience, whether self-reflection, personal insights, or creative inspiration. Having intentions can enhance the meaningfulness and focus of your journey.
Ingestion Methods: You can consume a psychedelic mushroom in various forms, including eating it directly, brewing it into tea, or incorporating it into food. Choose the method that suits you and consider factors such as taste and digestion speed.
Maintain a Positive Mindset: Approach the experience with an open mind and positive mindset. Embrace any feelings of anticipation or excitement while being aware of nervousness. Trust in the process and allow yourself to surrender to the experience.
During the Trip: Once the effects manifest, remain present and observe your thoughts, emotions, and sensations. Engage in activities that resonate with you, such as listening to music, practicing meditation, or spending time in nature. Embrace the introspective and transformative nature of the journey.
The Experience of Using Golden Teacher
The experience of tripping with Golden Teacher can vary from person to person, but many users report common sensations.
Heightened Sensory Perception
An intensification of sensory perception is a characteristic of golden teacher trips. There may be an increase in the vibrancy of colors, the intensity of sounds, and the pronounced textures. You might have a richer, more profound experience of nature and your surrounds, feeling more connected to them.
Nate, a first-time GT mushroom user, shared a story about how he noticed the reflections on glass getting brighter. Additionally, he observed what appeared to be breathing trees, which strengthened his bond with the natural world by highlighting the gas exchange between humans and trees.
Altered Perception of Reality
Golden Teacher trips may cause you to experience a distortion of reality, changing the way you think about space, time, and yourself. Minutes may seem like hours, or vice versa, if you suffer from a sense of time dilation. It's possible for your ego and sense of self to vanish, leaving you feeling a part of everything around you.
Emotional Intensity
You may experience many emotions, from euphoria and joy to introspection and reflection. It's not uncommon for unresolved emotions or memories to surface for profound introspection and potential therapeutic insights.
Enhanced Creativity and Insight
Many individuals report increased creativity and enhanced problem-solving abilities during a Golden Teacher trip. Your mind may make new connections, leading to fresh insights and perspectives on various aspects of life. This can be a valuable opportunity for self-discovery and personal growth.
Spiritual and Mystical Experiences
These experiences involved a profound sense of oneness with the universe, where the boundaries between the self and the external world seemed to dissolve. They described feeling deeply connected to everything around them.
Users report experiencing a divine presence or higher power during these altered states of consciousness. These transpersonal experiences can arouse a profound sense of meaning and purpose.
These experiences, which can be mystical or spiritual, are very personal and differ widely from person to person. They can result in profound personal insights, enhanced self-awareness, and a revitalized sense of connection to the greater cosmos. They are described as profoundly transformative.
The Science of Psychedelic Experience
It transforms into psilocin when consumed. The main way that this drug alters the way the brain transfers sensory data between different areas is by acting on serotonin receptors.
Changes transcend serotonin receptor modifications, though neuroscientists are still unsure of the precise mechanisms underlying the effects. Current theory indicates that the trips are caused by transient changes in how the brain interacts with the senses.
Psilocybin's ability to lessen depression is influenced by these elements as well as the experience itself. Early research on the use of a comparable strategy to assist people in quitting smoking has produced encouraging results. Deep-seated anxiety has also demonstrated potential to be overcome when psilocybin is used in conjunction with therapy.
Cancer patients who took high doses of psilocybin reported significantly lower levels of anxiety and depression, according to a study published in the Journal of Psychopharmacology. Approximately eighty percent of participants reported significant reductions in anxiety and depressive mood even at the six-month follow-up assessments. To confirm these results, a number of double-blind clinical trials are being conducted worldwide.
While the scientific understanding of psilocybin and its effects continues to evolve, the accumulating research suggests its potential therapeutic benefits and positive impact on mental well-being.
Explore The Effects of Beginner-Friendly Golden Teacher
With a mild intoxicating effect, Golden Teacher is a medium-potency magic mushroom. If you're new to psychedelic mushrooms, they provide a safe space to experiment with their effects. They're attractive to novices looking for a mild introduction to shrooms because of their manageable potency range and contemplative, enlightening trips. People can safely and joyfully traverse their journey with Golden Teacher by approaching the experience with kindness and respect.
Take a step into the world of psilocybin-containing mushrooms with Zoomies Canada. Explore a selection of Golden Teacher and other carefully curated products that can provide introspective and insightful experiences.
Related articles:
How Much Shrooms Should A Beginner Take
Back to top: Golden teacher mushrooms